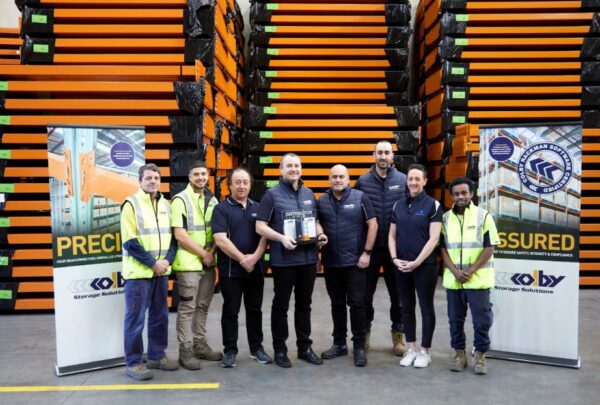 Dematic has awarded one of Melbourne's leading suppliers of storage equipment for warehouses, Colby Derrimut, as Colby Distributor of the Year for 2022.
With 30 years of industry experience, Colby Derrimut is a leader in providing end-to-end services in the design, supply, and installation of industrial storage and pallet racking to businesses across Melbourne and Victoria, such as Foodbank, Bega, and Haymes Paint. Colby Derrimut also trades under the name Storwell Storage Solutions.
Colby Derrimut was named Colby Distributor of the Year for 2022 in recognition of its many successes in the industry last year and its consistent dedication to customers.
"Our ongoing commitment to the Colby brand is reflected in our decision to trade under the 'Colby Derrimut' name, and it is incredibly rewarding to have our industry-leading position recognised by Dematic," says David LeNepveu, Principal at Storwell Storage Solutions. "In addition to the impressive range of Australian-built Colby storage and handling equipment that we stock, we deliver the advantage of offering high-quality service. We've provided outstanding service to hundreds of businesses of all sizes across Victoria to get the most out of their storage, whether it's a standard storage requirement or a tailor-made solution, or even if it's an urgent storage need with a tight installation deadline."
Colby Storage Solutions combines the flexibility of an Australian network of independent distributors with the resources of global materials handling leader Dematic. Dematic maintains its commitment to manufacturing Colby storage equipment locally to the highest possible standards of quality and safety.
For over 50 years, Colby has led on innovation and safety, resulting in it being one of Australia's most trusted suppliers of warehouse racking and shelving. ColbyRACK is a premium system available in a comprehensive range of commercial storage systems including high-density, fully selective or semi-automated. Colby Protect-a-RACK also keeps equipment safe from any accidents or inevitable forklift impacts, ensuring racking stands the test of time.
Lee Koutsos, Director of Real-Time Logistics & Colby Storage Solutions ANZ at Dematic says, "Congratulations to Colby Derrimut for having its business success recognised through being named Colby Distributor of the Year for 2022. This is a huge achievement given the last three years have been backdropped by continued challenging pressure and growth in the supply chain industry. Colby Derrimut don't just sell products, they partner with customers to provide a storage solution that they design, certify, and maintain, which mitigates any risks associated with racking installation and compliance. Most importantly, they are incredibly dependable, competent, and proud of what they provide. It's this approach to business that has earned them the award and made a real difference for their customers."
Dematic Recognises Colby Derrimut as 2022 Colby Distributor of the year